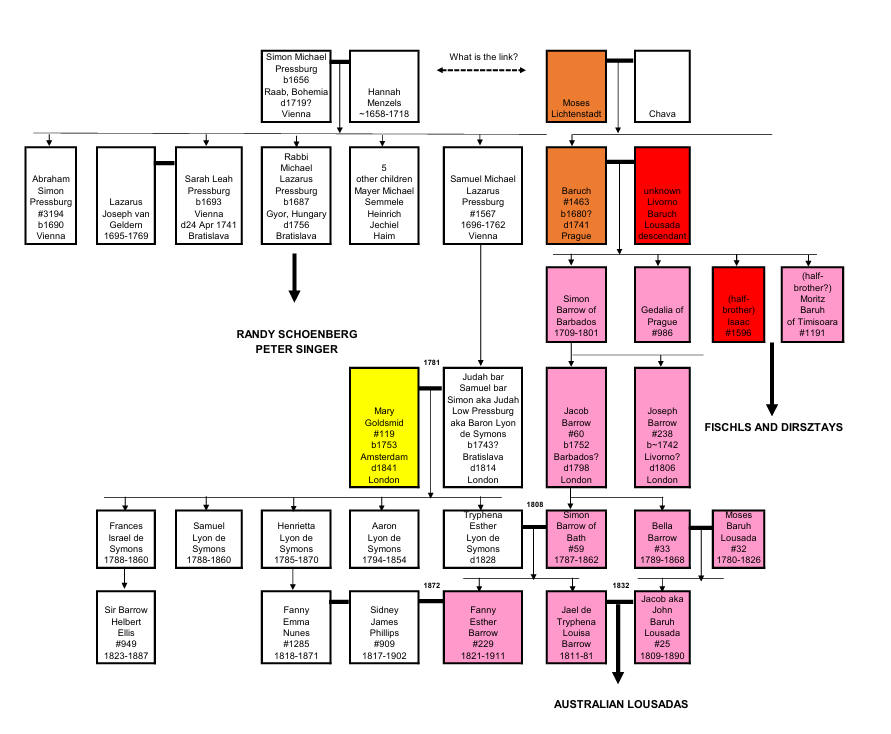 Diamonds and a possible link between Simon Barrow of Bath and his wife - were they 2nd cousins once removed?
It was of great interest to note that the name 'Simon' occurs in the name of the wealthy diamond merchant Baron Lyons de Symons as it does in the name of Simon Barrow of Barbados. Perhaps Simon Barrow of Barbados was a cousin of the Baron. They both had an Ashkenasi background, their families came together in England via the 1808 marriage of Tryphena Esther Lyon de Symons and Simon Barrow of Bath, and Simon Barrow of Bath showed himself to have had exceptional access to the Viennese court. The above chart explores how this all this may have come about, for it shows Simon Barrow of Barbados and his father-in-law as grandsons of an earlier Simon and to do this we have inserted into the Pressburg ancestry the father of Simon Barrow of Barbados whom we know was called Baruch. Our proposal nicely links other family names (see note 8 below), and is supported by DNA evidence (see note 10 below).
The suggested grandfather is the 'Court Jew' Simon Michael Pressburg, who adopted the Pressburg name upon settling in or near Bratislava where he was active in business and in community affairs. In 1710 he made a proposal to the Vienna Court for a bank in Bratislava, a proposal which resurfaced 12 years later (ref 56). His son (ref 148) Samuel Michael Lazarus Pressburg was a wealthy Viennese banker and Government agent and a daughter Sarah Leah Pressburg married the son of the another 'Court Jew' Juspa of Geldern who died in Dusseldorf (ref 56).
Court Jews were important in defence and other royal financing and of course in Jewish commercial life not least in diamond sales (ref 84). Diamonds diminished as a factor in their (suggested) Livorno presence, for once sea routes to India were established, few Indian diamonds made their way through Livorno. As ref 84 p125 points out, in the mid-18th century the London Ashkenasi Jews had few contacts with Livorno and thus did not use Mediterranean coral to trade for Indian diamonds (see note 9). In any event, the Sephardic Livorno merchants in the 1700s progressively concentrated on cross-Mediterranean trade rather than Atlantic trade (ref 64). Perhaps Simon Barrow's move to Barbados recognized that merchants in Livorno had little future in diamonds and also were failing to share in the growth of the broader Atlantic trade - so he followed his Baruch Lousada kin to Barbados thereby providing his descendants with an avenue to London.
Notes:
Bratislava is known as Pressburg in German and Poesing in Hungarian. It was the capital of Hungary during the Austro-Hungarian Empire.

Details of the children of Simon Michael Pressburg can be found in online genealogies but naming is extremely variable. We have chosen the variations which appeal to us!

The death of Simon Michael Pressburg in Vienna is now (14 Dec 2015) given online as 10 Apr 1719, but this conflicts with ref 56 p157 which seems to imply he again in person proposed his Bratislava bank in 1722, 12 years after he first proposed it in Vienna.

Simon Michael Pressburg is also well known as online he is named as an ancestor of the poet Heinrich Heine and also Karl Marx! His son the rabbi Eliezer Michael Lazarus Pressburg 1687-1756 is the ancestor of E Randol Schoenberg who has assisted us in this area.

The naming of Simon Barrow of Barbados is in breach of Ashkenasi naming rules (ref 35 p20) in that the paternal grandfather was alive in 1709 and his name should not have been used for an oldest grandson. This would not have been a breach of Sephardic naming rules. Our suggestion elsewhere that he had a Sephardic mother is thus probably necessary for and thus part of our Simon/cousin suggestion. We note that the second Simon Barrow was not named in accord with this rule either - perhaps the family thought of itself as Sephardic by then since his father Jacob Barrow would have had 3 Sephardic grandparents and in addition he married a Sephardic wife.

The birthdate of Baron Lyon de Symons is shown in ref 80 and in ref 147 as 1743 but 1741 and 1744 can also be found.

Ref 122 records that Wolf Liepman d1773, founder of the Westminster Synagogue, came to London in the mid-1700s and his two 'nephews' from Vienna followed, they being 'sons' of Samuel Pressburg, the affluent Austrian banker and Government agent. One of them was - or became - Baron Lyon de Symons. The wife of Samuel Pressburg 'Fradchen Liebmann' or 'Fratia Liepman' is commonly accepted as the sister of 'Wolf Liepman'.

The name of Samuel Lyon de Symons echoes that of his paternal grandfather Samuel Michael Lazarus Pressburg, and the name of his nephew Sir Barrow Helbert Ellis echoes that of Baruch the father of Simon Barrow of Barbados. Samuel Lyon de Symons married Bella Barrow in 1828 - she was widowed on the death of Moses Baruh Lousada in 1826.

The Francos moved from Livorno to London around 1710 to enter the English diamond trade and they came to assume a dominant import position; the advent of Brazilian diamonds in 1728 made Lisbon an essential location for them as well.

As discussed here, Julian Land (a descendant of Jacob Barrow) and John Griffiths (a descendant of Jacob's brother Joseph) both have a DNA match with E Randol Schoenberg a known descendant of Simon Michael Pressburg. Julian Land's match was not surprising in that he is a descendant of Baron Lyon de Symons a known descendant of Simon Michael Pressburg. However, this de Symons link is absent in the case of Joseph Barrow. Accordingly our suggested ancestry of Baruch, the grandfather of Jacob and Joseph, provides an explanation as to why Joseph's link to Simon Michael Pressburg occurred and it also provides an explanation as to why Julian Land's match with E Randol Schoenberg is stronger than that of John Griffiths, for he descends twice from Simon Michael Pressburg and John Griffiths only once.