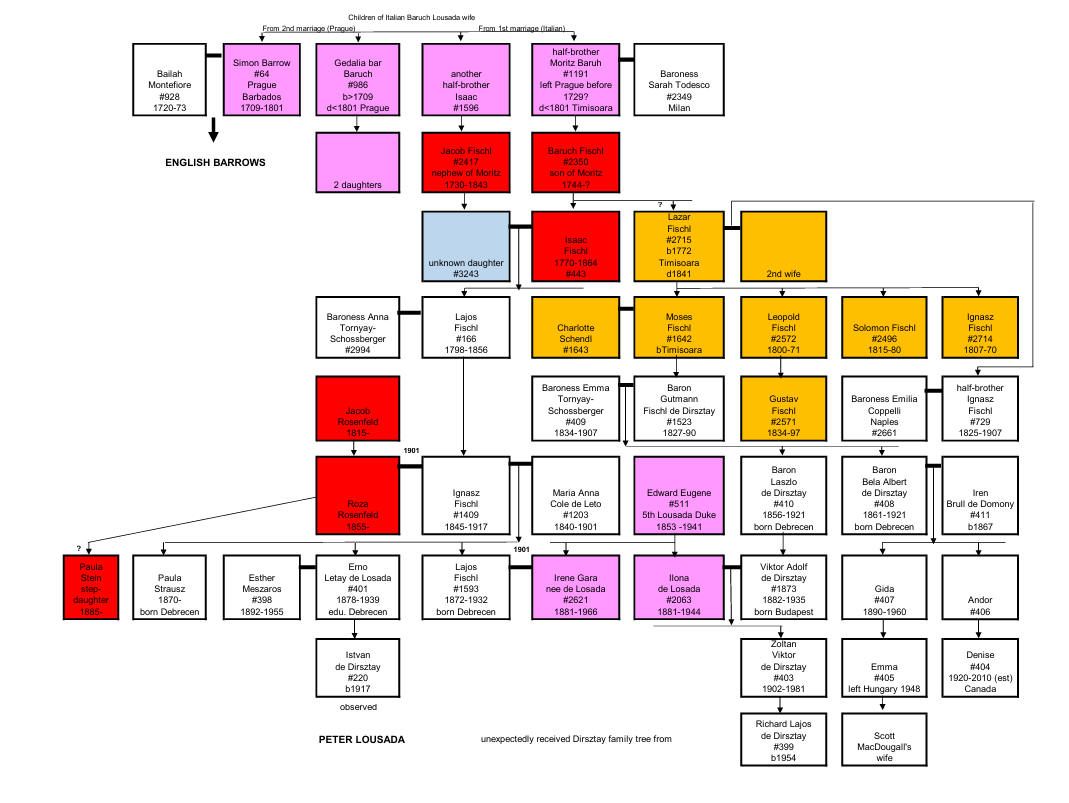 The Fischls and the de Dirsztays - and their Baruch Lousada links
The chart above is based on Richard de Dirsztay's tree (see note 9 below) and was first drawn up for the reason given in note 6 below. The tree shows recent Baruch Lousada ancestry (discussed in note 1 below) for Richard de Dirsztay appears to have been a great-grandson of the 5th Lousada Duke; he was also a grand-nephew of Erno Letay de Losada. The people shown in orange may be found online (see note 6 below) and appear to belong to a different family branch than that described in Richard's tree. The people in red are our suggestions but are not yet known.
In 1922 and 1924 Erno Letay de Losada obtained the right to use the 'de Losada' title and coat of arms; but this would hardly have happened solely on the strength of his sister-in-law's ancestry shown in the chart. She was a daughter of the 5th Lousada Duke, and while she seemed to be living proof that the Baruch Lousadas had successfully assumed the title of the Duque de Losada, additional arguments must have been put forward to demonstrate a more direct descent. Perhaps Erno only needed to demonstrate his own Baruch Lousada ancestry. We do not know how he did this, but if the de Dirsztay tree is any guide then Moritz Baruh was his key ancestor. However the tree does not give a cogent explanation as to how Moritz Baruh could have been a Baruch Lousada descendant (see notes 3 and 12 below), and in any case almost certainly demonstrates that Moritz Baruh was not Erno's ancestor (see note 9 for our reasoning). We have corrected this situation in that we now consider that Erno's Baruch Lousada ancestry must have arisen in Livorno via the Baruch Lousadas remaining there (see note 13 below). And we also suggest that it was not Moritz Baruh who was the actual ancestor of Erno but Moses' brother Gedalia of Prague (see note 3 below). If Gedalia had been in Prague in 1744 he would presumably have left as a consequence of the Empress' expulsion edict (see note 15 below) - later returning there, but perhaps his sons remained away from Prague with their uncle Moses in Timisoara.
The chart contains further hints in support of the relevance of Italy to this family history - for the Italian Jewish marriage link of Moritz Baruh is echoed by later such Italian links all shown in the de Dirsztay tree. Of course before the Risorgimento all of northern Italy progressively fell into the hands of the Austro-Hungarian Empire, and the retreat of the Ottomans created business opportunities to the east of Vienna. No doubt people of Sephardic ancestry from Italy and the Ottoman Empire joined those seeking to exploit these opportunities. At this time Livorno was losing its dynamism as a trading port and such opportunities must have been attractive. Perhaps further data from Livorno will assist us, but it would seem that at the time Simon Barrow and his sister went west to Barbados around 1750 and Gedalia went to Prague, Moses went to Timisoara. Thereafter he and his nephews acquired the Fischl name, and subsequently descendants with this name went to Budapest, though some acquired the aristocratic name 'de Dirsztay'. There were 2 marriages with the Tornyay-Schossbergers (see note 2 below) who had business interests across the Austro-Hungarian Empire and the Ottoman Empire. Such families were also prominent in the arts, government, diplomacy and (to a lesser extent) science. The chart thus illustrates a segment of the Jewish aristocracy of Hungary, but much of this cultural wealth was lost under the Nazis some of whose evil influence is captured in the de Dirsztay tree.
Notes:
1. The chart (drawing on the de Dirsztay tree) shows that the Ilona de Losada who married Viktor Adolf de Dirsztay was a sister-in-law of Erno Letay de Losada via her twin sister Irene. The marriage links together 2 family branches separated for some generations. The de Dirsztay tree gives the twins as daughters of the 5th Lousada Duke (see note 14 below).
2. What is the relationship of Emma who married Gutmann Fischl to Anna who married Lajos Fischl? The de Dirsztay tree answers this - Anna was a daughter of Lazar Tornyay-Schossberger and Rosalia Klein, whilst Emma was a grand-daughter of Lazar by his second wife Regina Sachs and son Simon. That is, Emma was a half-niece of Anna. This pair of marriages relinks family branches.
3. Moritz Baruh appeared in Timisoara in the mid-1700s according to the de Dirsztay tree. In accordance with our hypothesis that he was a brother of Simon Barrow of Barbados 1709-1801, he would have been born in the 1710-20 decade as a younger brother. The sons of Moritz Baruh appear neither in the Dirsztay tree nor in Simon's will (see note 7 below). These 2 sources therefore together suggest that Moses had no offspring and therefore that the Fischls and de Dirsztays do not descend from Moses. But they may descend from a brother of Moses - the only one we know of being Gedalia of Prague (see note 7 below). We guess the name of one of Gedalia's children - Baruch - from the name of his paternal grandfather (Baruch of Livorno - see note 13 below). There may have been more than one son of Gedalia as shown above, and certainly Simon Barrow's will confirms more than one child of Gedalia. Lazar's 1772 birthdate suggests that there were 2 generations between Moritz Baruh and the first people probably reliably recorded in the de Dirsztay tree.
4. Ref 35 chapter 2 provides an account of how the German imposition of surnames occurred.
5. In Richard's tree the appearance of Ignasz 1845-1917 as the son of Ignasz 1825-1907 raises questions as to whether the generation time is too small and whether a same-name father-son pair is likely enough. However we note that the younger Ignasz was born and raised a Christian, and we think this may explain the departure from Jewish naming rules, while we also note that while the generation span is small it is not impossibly so - especially as the year of the parents marriage is given.
6. Scott McDougall on 22 Mar 2015 made a few observations on the de Dirsztay tree. His wife's great-grandfather was Bela de Dirsztay (1861-1921). Online sources suggest to him that Bela's father Gutmann had a father named Moses not Lajos, that the father of Moses was Lazar Eleazar Fischl b~1772 in Timisoara, and an Ignasz was a brother of Moses Fischl. The chart above however follows the de Dirsztay tree in giving Gutmann as the son of Lajos, and thus it shows the 3 people shown in orange as part of a different branch of the family and descending from a different son of Gedalia. The chart was first prepared to show how Bela de Dirsztay relates to Istvan and Richard de Dirsztay with whom Peter Lousada had contact (see note 10 below). On 19 Feb 20 Scott MacDougall advised that Bela's grand-daughter Denise (see the de Dirsztay tree) did get to Canada and was married with no children; she died around 2010 and that he and his wife used to see her regularly. Emma, Scott's mother-in-law fled to Canada around 1948, and that her mother Luyza died before WW2. Emma's brother Bela may have died in a WW2 work camp.
7. Only the children of Gedalia and not the children of Moses appear in Simon's will, so not only did both Gedalia and Moses die before Simon did, but Moses had no surviving children.
8. Timisoara became associated with the Austro-Hungarian Empire after its conquest in 1716 by Prince Eugene of Savoy except for a brief period of Ottoman rule in 1778-9. Perhaps after the 1716 conquest, there was Italian and Jewish investment in Timisoara, and Scott McDougall has also found online reference to this.
9. The de Dirsztay tree was unexpectedly provided by Richard de Dirsztay (see note 10). Conveniently its text was extracted from it by John Bury. See note 12 below for our comments on its supposed Baruch Lousada ancestry for Moritz Baruh. Supporting historical details are discussed in notes 4 and 8. Richard's tree is very hazy in key respects, and not just the conjectural early Spanish ancestry details. He gives only one son to Moritz Baruh, ie Lajos Fischl 1798-1856. This involves an almost incredibly large generation time, since Moritz (on our hypothesis) was born 1700-20 and had probably died somewhat before 1801, and therefore we suggest not only that Lajos was not a son of Moses, but that at least one generation is missing from the de Dirsztay tree. As suggested in note 3 above we suggest that the missing generation (or rather 2 generations) are supplied by Moses' nephews from Prague and their offspring. See also note 5 for another query about the tree - but one we live with for the moment!
10. See here for some background to this gift and the probable role of Istvan de Dirsztay - to which we add that as shown in the chart Istvan was a cousin (via 2 Lousada marriages) of Richard de Dirsztay's father and must have communicated with his cousin (once removed) after noting Peter Lousada in Budapest.
11. Of course, as the lifespan of the Duque de Losada was 1706-83, and his title was created in Naples in 1741, the claimed link lacks authenticity, for Moritz Baruh was of the same vintage as the Duque who was childless. A branch of the Jamaican/English Baruch Lousadas assumed the title as from 1848, but this assumption also lacked authenticity in that there was no connection between the Baruch Lousadas and the Duque de Losada! The 5 Lousada Dukes were favoured by a lack of critical inspection of their claimed link, and Erno himself must have glossed over the fact that the time at which Moritz Baruh and the Barrows actually acquired their Lousada connection ie in the 1700-1710 period any link between the Lousadas and the Duque de Losada had not yet been mooted.
12. We comment here on the Baruch Lousada ancestry for Moritz Baruh given in Richard's tree, and as can be seen we believe the early years of the de Dirsztay account has too many errors to be credible.
13. To explain the belief of the Barrows that they descend from the Baruch Lousadas, we proposed elsewhere an early Barrow link with the Baruch Lousadas centring on Baruch of Livorno, father of Simon Barrow of Barbados and Gedalia of Prague. Erno may well have had the same belief, in which case our proposal can be extended to suggest that Moritz Baruh of Timisoara was also a son of Baruch, though as we observe in note 9 he was probably not Erno's ancestor! In any event, Baruch is the subject of another hypothesis, made because the Barrows retained links to the Austro-Hungarian Empire. Our thinking gains support from DNA analysis as discussed here. But as pointed out in note 11 the Hungarian emulation of the Barrows adds no validity to the Baruch Lousada assumption of the title of the Duque de Losada.
14. The appearance of Edward Eugene, the 5th and last Lousada Duke, in the de Dirsztay tree is a considerable surprise, for the only other information we have for him is his death in Jamaica (ref 6 p27). No sources are given but it is hard to imagine Richard de Dirsztay getting his own grandmother wrong! Most of the uncles and aunts of Edward Eugene inhabited an elevated sphere of (mostly) Catholic Europe; Emanuel the 2nd Duke married a somewhat impecunious minor French aristocrat Honorine Scholastique Lejeune, Emma married a Belgian Count Louis van der Burch of military background, Francis was HM Consul for Rhode Island and Massachusetts and was made Marquis of San Miniato by the Grand Duke of Tuscany (his wife was on the Grand Duke's staff in London), 2 of his 3 sons becoming the 3rd and 4th Dukes (Horace Francis and Francis Clifford), Edward Eugene's father married Francoise Tard of Chantilly, Berthe married Gustav Nicolai de Noe of Prussia, while Anna Marie married Edmund Molyneux-Seel who became Chamberlain to Pope Leo and Chamberlain 1st Class to Pope Pius 9. The twins' mother is given as Baroness Judith Menasche; while probable relatives of Judith also appear in the de Dirsztay tree though without family links to Judith being shown.
15. Ref 66 observes that the expulsion of 1744/5 probably led to an increase in Jewish immigration to England - and perhaps Timisoara similarly gained Jewish population as we suggest here. Ref 66 also argues that English diplomacy had little to do with the partial reversal which was more to do with local reaction and the valuable social role the Jews played in the Empire. We suggest that Baron Moses d'Aguilar may have had something to do with this given his access to the Empress.