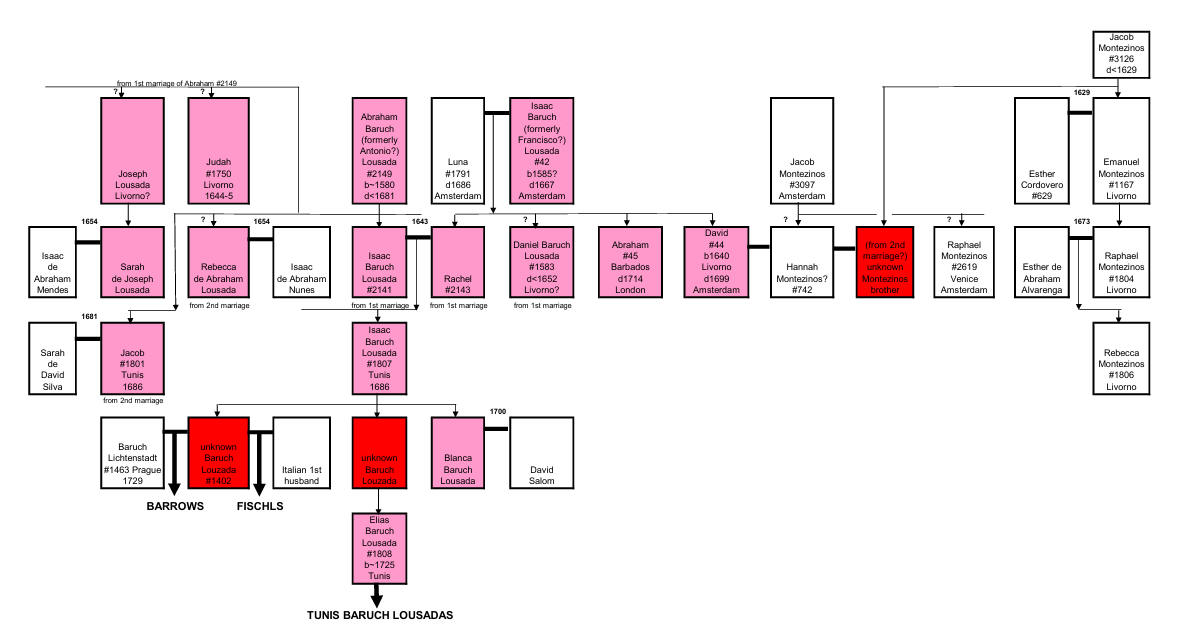 The early Livorno Baruch Lousadas - those present with Isaac #42 and those remaining after Isaac #42 left for Amsterdam around 1662
The Baruch Lousada presence in Livorno can be dated from the birth of David #44 in 1640. Livorno records show his father Isaac #42 participated in Synagogue elections in 1641 and 1642 (see note 2 below), was elected to the Mahamad in 1644 (ref 185 p455), was a founding member of the Dowry Association (ref 185 p463) and in 1644-5 was living at 11 Via Genovese (ref 185 p447). Isaac #42 was in Livorno until 1660 = 5420 (see ref 320). From this and other sources eg refs 225, 286 and 319 we have drawn the above chart of the first Baruch Lousadas of Livorno (that is up to 1700 - see third paragraph below).
The recent publication of ref 319 has greatly clarified the task of understanding the Baruch Lousada presence in Livorno, for 7 Livorno marriages with dates in the chart above derive from this source. Of the remaining 5 marriages, which were not in Livorno and which we are unable to date accurately, Amsterdam data confirms the marriages of each of Isaac #42 and Daniel #1583 (see note 4). In note 7 below we explain our inference of 2 Montezinos marriages; while our inference as to the marriage which is the source of the Barrows is explained here. Of course the 1654 Lousada/Mendes marriage through the Mendes names recalls the Vinhais history of the Lousadas which shows 5 sons of Amador de Lousada (of these 5 the oldest son Fernando remained in Vinhais). With the now proven existence of Abraham #2149 we have a surplus of candidates to be identified with each of the 4 departing sons of Amador de Lousada. We currently identify Isaac #42 with Francisco, and Abraham #2149 with Antonio, as shown above. And as explained in note 5 below, 4 of the Livorno Lousadas are suggested as sons of the 1st marriage of Abraham #2149 while David #44 and Abraham #45 were sons of (the 2nd marriage of) Isaac (see also note 3 below).
Isaac Baruch Lousada #42 appeared in Amsterdam in 1662, so it appears that he and his sons David #44, Abraham #45 and Moses #1585 (not shown above) left around 1660 (but see note 3 and 4 below) and this dispersal is depicted here. We suggest in the chart above how descendants of Isaac remained in Livorno beyond the 1660s giving rise to numerous further descendants (see note 1 below). Some uncertainties exist in the above chart (see notes 5 & 6 below). What is clear from ref 319 however is that while both Baruch Lousadas and Levi Lousadas (see note 2 below) were present in Livorno until around 1700, a hiatus of over 100 years developed and family marriages did not resume until the 1820s. We are uncertain where the post-1820 arrivals came from - perhaps Tunis (see also note 8 for other uncertainty). Livorno appears to have the location of the first use of the 'Baruch' Lousada name. Perhaps the existence of Levi Lousadas, Israel Lousadas (see note 8 below) and Lumbroso Lousadas (see note 5 below) in Livorno created a greater need to use the 'Baruch' name there to make family allegiance more specific. Its first known use away from Livorno was by Moses Baruch Lousada #46 who appeared in Amsterdam 1649-59 probably visiting from France, before taking the name (with his cousin Jacob #1388) to London in 1660. We identify Abraham #2149 as the father of Moses, though we don't show Moses in the chart above as we have no record that he was ever in Livorno or if so for any extended period.
Notes:
1. The key remaining Baruch Lousada may have been Isaac #1807, who seems to have a son of Isaac #2141 (an unusual circumstance for it requires the bride's father to have the same forename as her bridegroom). Isaac #1807 was the father of Branca who married in 1700. Perhaps it was a sister of Branca who left a descendant Simon Barrow #64 of Barbados via a marriage around 1708 with an Ashkenasi named Baruch. Such a marriage does not appear in ref 319. We suggest it also gave rise to the Fischls. Also, since it seems the second Isaac #1807 spent time in Tunis (ref 185 p469), with his probable cousin Jacob (see note 6 below), he is probably the person who produced descendants in Tunis as shown in the chart. Many Livorno Jews moved to Tunis around 1700 (ref 171).
2. Isaac was living in the house of his uncle Abraham Levi Lousada in 1641 and 1642 (ref 149), while in 1686 Abraham and Jacob Levi Lousada were bullion workers in Livorno (acing as intermediaries between Constantinople and Amsterdam in the transit of some Hebrew books - #3 ref 175). Isaac Levi Lousada appeared in Tunis (ref 185 p470 and ref 186). A century later the family was still evident in Livorno as shown in the Decime property tax records in the City Archive. A chart of the Levi Lousadas of Livorno may be found here.
3. Moses #1585, whom we suggest was a natural son of Isaac, must have left Livorno with his father for Amsterdam aged about 12. David #44 was born in Livorno and appeared in Barbados by 1664, and got to Amsterdam by 1672 after a probable marriage in France which was ratified in Amsterdam in 1673. A further son Solomon #1501 appears in Amsterdam and presumably also travelled with his parents. Jacob #1388 appeared in London in 1660, but it is not known whether he was in Livorno with his father Isaac #42 and full sister Rachel #2143. He appears to be from Isaac's 1st marriage, and may have stayed in Madrid with his cousin Moses #46 with whom he appeared in London. Rachel #2143 also appears to be from Isaac's 1st marriage, and Rachel must have been born around 1630.
4. The Madrid 2nd marriage of Isaac #42 in the 1630s is inferred here. Livorno was also the source for some Lousadas going to Algeria (ref 62) and ref 321 shows the firm Alvarenga & Lousada present in the Algeria-Livorno trade (perhaps the 1673 marriage in the chart above is relevant here).
5 A Judah Lousada appeared in Livorno in 1644-5 (ref 185 p450 shows him living at Via de Ebrei 1801). We show him as a son of Abraham #2149 in the chart above, and likewise we show Joseph and Daniel as sons of Abraham #2149. However, ref 319 shows that Isaac #2141 was a son of Abraham, which possibly makes him the youngest of the cohort shown because the marriages of Joseph, Daniel and Judah - if the latter was married - were before the family reached Livorno. It also probably means that Abraham #2149 accompanied his brother Isaac #42 to Livorno, probably with his 2nd wife for the probable 20 year gap in birthdates puts Rebecca who married Isaac Nunes in 1654 in a cohort later than that of her (probable half-) brother Isaac #2141. (Like Joseph and Judah the 'Baruch' name is not used by ref 319 in connection with her marriage and so any of these could be Levi Lousadas or Lumbroso Lousadas - though equally the 'Levi' and 'Lumbroso' names do not appear). Our location of Moses #46 (not shown in the chart) as a son of Abraham #2149 is because Moses #46 had a son Abraham #1352, and was also present in Amsterdam 1649-59, which covers the period during which Terra Santa grants were being applied for - ref 108 shows requests in the years 1652-57 for Mira (the widow of Daniel Baruch Lousada).
6. The father of Jacob #1801 was Abraham 'de feu' as shown in ref 319 marriage 585E of 1681. This shows Abraham #2149 was in Livorno earlier (earlier references to him eg as the father of Isaac #1807 do not describe him as 'de feu'), that he died earlier than 1681, and that Jacob probably came from his father's 2nd marriage. The father is most unlikely to have been Abraham #45 who appeared in Barbados by 1672 when he replaced his brother David #44 and ultimately died in London in 1714 after visiting Amsterdam. Abraham #45 died 15 years after David, which might suggest that he was born after 1640, as would his young family in London in 1695. Elsewhere we infer he was not born in Madrid in the 1630s. Thus he was probably born between David (1640) and Moses (around 1650), say around 1645, and is thus probably too young to have fathered Jacob #1801 who married in 1681. As Isaac #1807 is a proven father, he is preferred over Jacob as the source of the Tunis Baruch Lousadas, but evidence may emerge necessitating a modification of our view here.
7. The marriage of Raphael Montezinos in 1673 was to Esther Alvarenga and not to a Baruch Lousada, from which we dismiss the possibility that David #44 was a great-uncle of Raphael's daughter Rebecca because of a Baruch Lousada marriage. That is, David's wife provided the Montezinos connection. However, she could not have been a sister of Raphael's father Emanuel #1167 because the age differences seem too large. Accordingly, it seems that a very young Hannah married a brother of Emanuel's but not in Livorno as the marriage does not appear in ref 319. Similarly David's marriage to Hannah was not in Livorno. Most probably Hannah's husband was a much younger half-brother of Emanuel #1167. Though Jacob Montezinos #3126 was born before his brother Fernando who was born in 1588, clearly in 1629 when he married Emanuel must have quite young. Another Jacob Montezinos was a marriage witness for David #44 in 1673 and hence we suggest he was Hannah's father, raising the possibility that both grandfathers were the namesake of Jacob #711, David's Barbados stepson and that Hannah was not only married to a Montezinos but was a Montezinos herself. Perhaps Jacob #3097 was a nephew of Jacob #3126. The father of Fernando and his brothers like Jacob #3126, according to ref 153, was Manuel Lopes Telles who was thus paternal grandfather and namesake of Emanuel #1167. Note that Alvarenga is the name of a parish of Lousada in Portugal (as well as that of a town south of the Douro River) and that the firm Alvarenga & Lousada figured in the Livorno Algiers trade (see note 4).
8. We are currently unable to place the 20 May 1654 marriage in ref 319 vol2 p34 between David de Abraham Pereira and Sarah de Jacob Israel Lousada. They could be 2nd generation incomers from Madrid.