Before his arrival in New South Wales, Joseph Barrow Montefiore #455 (b1803 Barbados d1893 Brighton) petitioned for 5000 acres - double the normal grant. The local Governor needed assent from London which was duly given. The land was in various parcels but principally in Bligh, Wellington and Bathurst. An account of this negotiation is given in ref 77. He went on to acquire large tracts of land in New South Wales through his company J Barrow Montefiore & Co and by 1838 owned 12,502 acres, including Nanima station shown here, near Wellington - just northwest of which is the small town of Montefiores. Jacob Barrow Montefiore was a partner in this firm. Joseph Barrow Montefiore also had a partnership with David Ribiero Furtado who came to Australia with him. This partnership dissolved in 1837 and was replaced by Montefiore Breillat & Co in Sydney and Montefiore Furtado & Co in Hobart Town (ref 79).
He visited Tasmania and in Melbourne rented the house of John Batman, founder of Melbourne. He bought city blocks in Melbourne in 1840, one of which on the corner of Spring and Flinders Streets (ref 78) and is now occupied by Shell House - see following picture! The site of his Adelaide premises is now occupied by Westpac. He assisted his brother Jacob - a founder of the predecessor of the ANZ Bank - as local representative.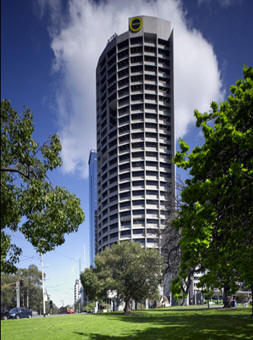 His company went bankrupt in 1841 and he returned to England for a period. On his return to Australia he went to the new colony of South Australia where he found great success. Amongst other things he with others founded the Adelaide Marine Insurance Company and the railway linking Adelaide with Port Adelaide; he was also involved in copper and gold mining at Montacute (these details from Valerie S Hicks 'Osmond Gilles: The Colonial Treasurer' self-published 1985). His house was on Montefiore Hill in North Adelaide (this hill on the fringe of the City of Adelaide was named after his brother Jacob).
He and his wife Rebecca Mocatta had 13 children and thus made a big contribution to the influx of Barrow Lousadas to Australia! Joseph appears in the Australian Dictionary of Biography (ref 53). His grave (see picture below) at Balls Pond Road Jewish Cemetery at Islington clearly shows his Barbados origin and reads 'In memory of Joseph Barrow Montefiore born in the Island of Barbados the 24th June 1803 died on the 4th September 1893 Ellul 23 5653'.