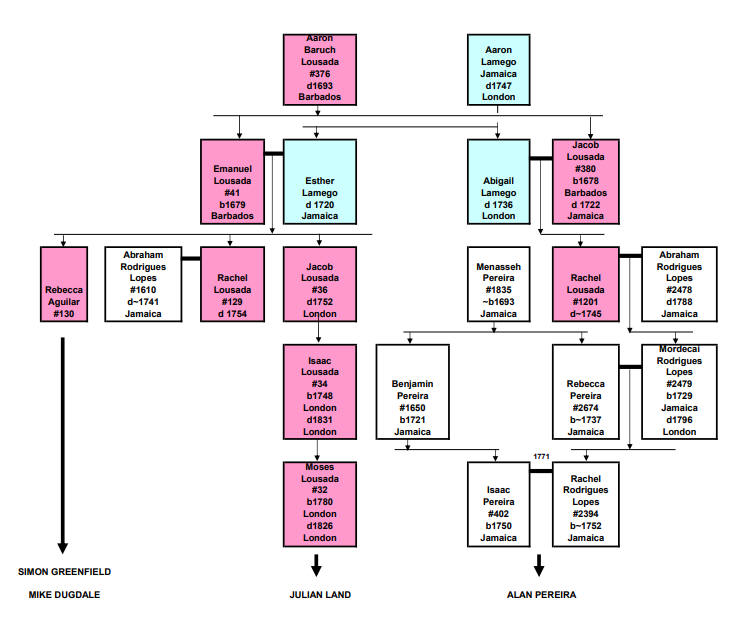 Alan Pereira's descent compared with that of Simon Greenfield, Mike Dugdale and Julian Land
The above chart shows how 4 distant relatives who made contact via this website are related. Their nearest common ancestors are Aaron Baruch Lousada of Barbados and Aaron Lamego of Jamaica.
Notes
Simon Greenfield worked out the genealogy of the English Aguilars and the link indicates how he descends from them.

Alan Pereira descends from Jacob Baruch Lousada #380, a brother of Emanuel Baruch Lousada #41, via the 1771 marriage of Isaac Pereira and Rachel Rodrigues Lopes. His grandfather Horace Charles Pereira 1895-1969 was a great-great-grandson of Mordecai Lopes Pereira 1774-1834 a child of that 1771 marriage. Click here for the contribution of Alan Pereira.

Julian Land's grandfather Aubrey George Lousada 1893-1975 was a great-grandson of Moses Baruch Lousada #32.

In preparing the above chart, we considered whether the 1771 marriage was between cousins. This was because both Benjamin and Rebecca Pereira had a father named Menasseh. Marriage between cousins was not uncommon. However Alan Pereira has provided data to show that this was not the case. The 2 Menassehs may be cousins but we have no proof of that. We also show that an Abraham Rodrigues Lopes married each of the cousins Rachel #129 and Rachel #1201, but the 2 Abrahams are distinct people though may well be cousins themselves.

Alan Pereira has observed that the fortune of Mordecai Rodrigues Lopes was inherited by his son Sir Menasseh Massey Lopes who took a dim view of the poor financial performance of his oldest nephew on the Pereira side namely Benjamin Pereira 1772-1828 who suffered imprisonment for debt. Sir Menasseh then left the bulk of his estate to the eldest nephew on the Franco side namely (later Sir) Ralph Franco Lopes who was a child of the 1785 Lopes/Franco marriage shown on the Franco chart.